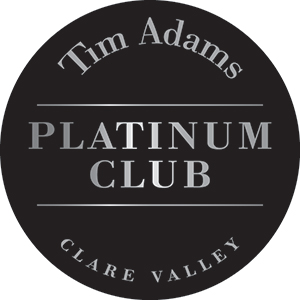 Join the Platinum Club to receive Tim Adams wines of your choice, free delivery to your door, with the flexibility to choose the number of bottles, and the frequency.
Exclusive MEMBER only pricing online and in Cellar Door
Purchase ADDITIONAL wine anytime ALWAYS at member pricing for Tim Adams and Mr. Mick
FREE shipping ALWAYS
Change your selection ANYTIME
Need to DELAY while you take a holiday? Easy just press PAUSE
Loyalty voucher for long term commitment.
Special offers on Tim Adams and Mr. Mick wines throughout the year.
Complimentary wine tasting in our cellar door.
10% off total bill when dining at Mr. Mick Kitchen - conditions apply.