Our Story
Tim Adams Wines was originally born of a partnership between Tim and Pam and local coopers, Bill and Jill Wray, in 1984.
The business was to make wine and small oak casks. This first year fell in the middle of a grape shortage, but fortunately the budding company was able to beg 10 tonnes of Shiraz from a good friend and neighbour. 1986 saw the first release of wine under the 'Adams and Wray' label, but the partnership was later dissolved in 1987, with the young couples choosing to focus on their respective passions. The families are still good friends to this day.
1987 continued to be an eventful year for the newly named Tim Adams Wines, with the purchase of the current winery site at Warenda Road in Clare and arrival of daughter Frances. Cellar door was opened and the first grapes crushed on site the following year. The decades that followed brought with them a natural evolution of the company, the physical site and the wines themselves. These years of hard work, passion and curiosity have resulted in a progressive family winery that is committed to creating elegant wines, without forgetting its obligation to the Australian wine industry, environment and wider community.
Tim Adams Wines now has a presence in all major international markets and is the constant recipient of awards, reviews and accolades both in Australia and overseas.
In 2016 Tim was recognised as one of Australia's top ten iconic winemakers in the book - Ten Apostles - Stories of Australia's Iconic Winemakers by David Aylward and Paul Ashton.
Cellar Door
Our Cellar Door and Winery, is located 130km north of Adelaide on Warenda Road, just south of the township of Clare in South Australia.
Our Experiences
Estate Tasting $10 
We bring our vineyards and Tim and Brett's elegant and balanced winemaking into every glass of our wine. Enjoy a tasting with our knowledgable staff.
(redeemable upon wine purchases)
Single Vineyard Wine and Cheese Flight $35
Enjoy a curated flight of our five Single Vineyard wines, carefully paired with five artisan cheeses from The Smelly Cheese Shop
Artisan Cheese Platter $20
Two artisan cheeses of your choice served ŵ house made lavosh & accompaniments 
Vineyards
Can't visit the beautiful Clare Valley? Then take a look at where our vineyards are located and explore our wines through the on-line store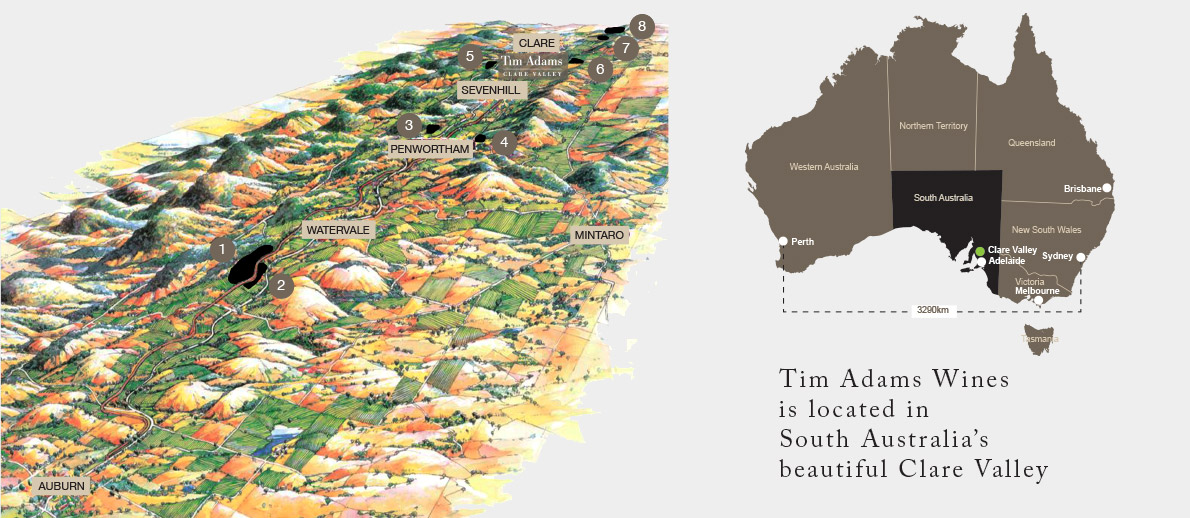 Sheoak West
Sheoak
Ireland's
Bayes
Skilly Ridge
Ladera
Schaefer's
Rogers
Sheoak West, with its beautiful eastern aspect was planted in 2006 and now produces 15 hectares of premium dry-grown Tempranillo, Malbec, Cabernet and Pinot Gris.
Sheoak, established in 1961 is a 20 hectare vineyard owned by Grant Crawley, Tim Adams and Pam Goldsack, which grows Pinot Gris, rich, flavoursome Shiraz and Tempranillo.
Ireland's, established in 2000, is a 12.5 hectare vineyard in Sevenhill. Here we grow Riesling, Shiraz and Mataro. In optimum years, we produce our Botrytis Riesling from this site.
Bayes, established in 1997, is an 8 hectare property near Penwortham planted to Riesling and Shiraz. Early morning sun introduces beautiful flavours into the fruit on this site.
Skilly Ridge is a 16 hectare vineyard which was added to our portfolio in 2014 and is home to Clare Valley's first planting of Tempranillo. The property also grows a consistent quality harvest of Cabernet, Shiraz, Riesling, Chardonnay, Merlot and Pinot Gris.
Ladera, planted in 2004, is an 11 hectare dry-grown vineyard at our original winery site on Wendouree Road. It grows our premium Pinot Gris and Reserve Tempranillo.
Schaefer's is the newest addition to our vineyard holdings. Planted in 1997, this 12 hectare site consistently produces some of Clare's best Shiraz.
Established in 1979 and purchased by Tim and Pam in July 2009, this 57 hectare property is planted to Shiraz and Semillon. In 2015 and 2016 we planted Pinot Gris, Vermentino, Grenache, Malbec and Tempranillo.